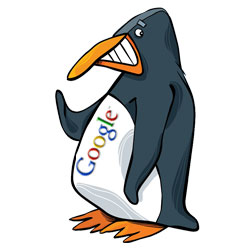 On April 24th, 2012 Google introduced a new search algorithm (nicked named Penguin) that seems to specifically target over-optimization and link spam.    Sites that were ranking high and generating lots of traffic, due to having lots of backlinks to their site, were suddenly not performing near as well. In fact, some sites lost 50% or more of their web traffic.
Most of the sites affected seem to have participated in link building campaigns or use link building services.   I think Google is always trying to keep search results natural so the best, most influential sites make their way to the top.  So obviously back links would be a good measure of of a sites popularity and was part of Google's algorithm.
Once the SEO specialists realized backlinks were a factor they started generating lots of keyword friendly backlinks so that they could manipulate search engine results and catapult sites to the top of the rankings.   I am not saying that all the linking that was going on was bad, but obviously Google recognized that the search results were being skewed by link spamming.
When A Penguin Attacks…
One of my clients was impacted by the Penguin update and saw their site traffic drop by about 50% and their search engine rankings have been all over the map. Sometimes showing up in the top 3 and sometimes not showing at all.
We have narrowed down the issue to a link campaign a previous SEO firm did for them a few years ago.   The client had fired the firm back before I started working with them but the damage was done and is still hurting them today. It just goes to show the decisions you make today can have far reaching impact tomorrow.
So How Do You Recover From a Penguin Attack?
From my reading, Google has indicated that sites will naturally recover from the Penguin penalty as they resolve some of the issues that got them penalized.   Matt Cutts, head of Google's Web Spam team has released a couple videos that might help.
When Are Penalties Lifted?
Does Google take manual action on webspam?
It has always been my position that natural organic SEO is the best policy.  Well written, useful sites tend to perform very well. The same goes for backlinks and even for social media links – let your good content get you backlinks and social media links. I am not a big fan of services that provide mass link exchanges, or retweets etc.  These may temporarily boost rankings but as we have seen with Penguin, it is not long before Google sees the behavior as manipulating and devalues it.
Need organic help with your search engine rankings?  Contact me today for a no-obligation quote.