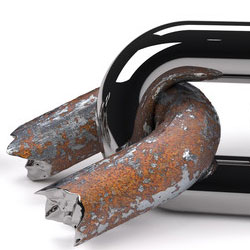 Are your web site visitors clicking on a link and ending up with a dreaded page not found error? 
Broken links can be a source of frustration for your website visitors and can actually impact your SEO efforts.
Sites with a lot of broken links may be considered old and no longer maintained and this will hurt your search engine rankings.
What is a Broken or Dead Link?
A broken or dead link is a link that doesn't work anymore or maybe never worked!   Broken links occur for 3 main reasons:  the page or content doesn't exist anymore, a wrong url is used in the link or the content requested has moved to a new url and the link hasn't been updated or a redirect hasn't  been added to the site.
How to Check Your Website for Broken Links.
There are several tools you can use to make sure your website is free of broken links.
If you have a non-wordpress site, you can use online services such as Broken Link Checker to scan your site and generate a report of any broken links.  You can then use this report to correct any broken link issues with your site.
If you have a WordPress site, you can use a plugin like Broken Link Checker to monitor and notify you of any internal or external broken links on your site.
You should also set up Google Web Master Tools for your website.  This tool allows you to identify any crawl errors that Google has found. (Go to Health > Crawl Errors).  These can be broken links from within your own site or perhaps broken links coming from 3rd party sites.
How to Fix Broken Links.
Once you have identified any broken links you need to fix them:
Typos. Sometimes broken link may be a result of a typo or wrong url.  This is a simple as fix. Just find the link on your site and fix the URL.
Page doesn't exist anymore. If the page you are linking to is a 3rd party site that no longer exists, you should remove the link completely.
Page or content on your own website has moved.   If the website content has moved, you should set up a 301 redirect so that the old link is redirected to the new page on your website.  This is especially important when you do a website redesign and your content structure or url naming strategy has changed.  For example your old structure may have been  www.yourwebsite.com/somepage.html and the new structure is www.yourwebsite.com/somepage/  This change can result in a broken link.
Making sure your site is free of dead and broken links is an important part of your web maintenance.  If you have any questions about broken website links or how to fix them feel free to comment below or send me a message.