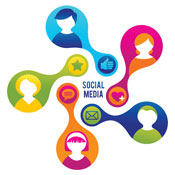 Many small business owners perceive social media as simply a marketing option;   just another marketing tool, like PPC or list building that they may choose to use or not use when promoting their business.  Unfortunately, this is no longer true.   Small business owners simply cannot afford to ignore social media any longer.
Changes to search engine algorithms has made social media interactions an important component in determining search engine rankings.   This means that your social media activity can influence and improve the search results your website receives.  So if you want to get or continue to get high search engine rankings you are going to have to include social media in your SEO plan.
Why social media needs to become a critical component of search engine optimization strategy.
Get your content indexed faster
Social Media links can help search engines find and index your website and blog content faster. Analysis of the relationship between Google and Twitter has shown that Google bots visit new content within 1.5 seconds of the content being tweeted compared with 2.5 hours when you only link to the new content in within your site.
In fact, indexing time can be cut by as much as 50%.  That means content that may normally take 8+ hours to be indexed by Google, may now only take 4-5 hours.  If you receive more than 3 retweets your times get even better.
Get higher search engine rankings
Shares, tweets and likes help show that your content is popular therefore implying it is new, relevant, and useful which can lead to better search engine rankings.  Google's rank algorithm looks at the credibility of your website and you will receive better rankings if your site is considered an authority in your industry.
One measure of your authority is two-way engagement between you and your followers.  It is not enough to just build a large follower base you need to establish meaningful and ongoing interactions with your followers. You can't just rely on automatically sharing your blog posts on social media networks.  You must make an effort to actively engage with your followers.
Personalized Search Engine Results
Search engines personalize search results by showing different results to each user based on their search history and their social connections. Your website should get higher rankings for persons connected to you socially.
For example, two people (Rob and Gary) are both doing an internet search for silly cat videos.   Rob may see results that feature a story that his friend Alison previously shared and Gary may see results that his friend Carl previously shared.  The search engines are trying to make sure the results are relevant to each individual and in the most basic terms if your friend liked something, you might like it too.
So you can see how important it is to be building a network of followers that will help get your search results, in front of both your followers and their connections.
Faster indexing, higher search engine rankings and personalized search engine results are just three reasons why social media is no longer just option for internet marketers; social media has become necessary for achieving better search engine results.