Have you ever seen a link a friend has shared and tried to find it several days or weeks later? It can be such a pain, especially if you can't remember who posted it.
Facebook has a save feature that lets you save links, places, music, books, movies tv shows and event posts.   The save feature works on both Facebook and the mobile version.  But remember, the save feature doesn't work for regular status updates and photos. It is just for the status updates with .
Save Content From Your Facebook Feed – On both your computer and mobile device
To save a link you want read later, click the down arrow in the upper-right corner of the post and choose Save "Name of Article."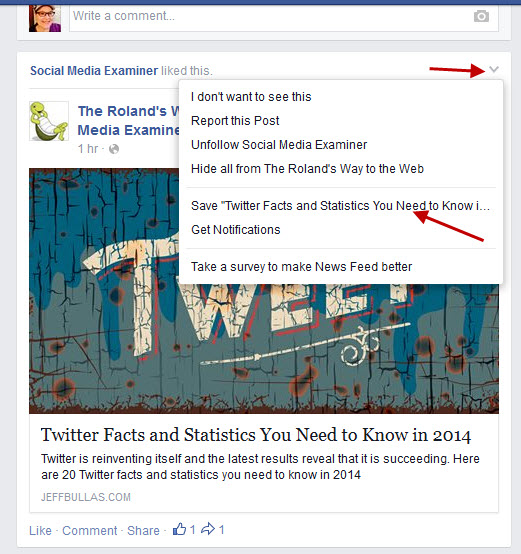 To Find your saved articles
On your computer, check the sidebar under Name and you'll see a link called Saved.
On Your Iphone click the more button at the bottom of the app and you will see a the Saved Link.
If your business has a Facebook presence this is good news.
Your content now has an opportunity to be saved for later!   Previously the audience might see your post and be interested but perhaps didn't have the time to read your article immediately. Once your article was out of sight, it was pretty much forgotten. Now if your audience sees something they are interested in, they can save it and easily come back to it later.
Remember though, If a Facebook post doesn't have a link preview, readers can't save it. SO you will want to make sure your status updates include links to your blog posts and website.