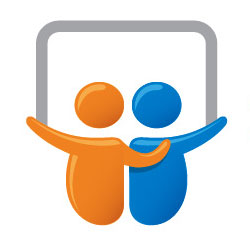 Do you have an awesome PowerPoint presentation or PDF file that you want to share with your site visitors as a slideshow?   Of course  you can just upload and link to the media, but that means your visitor has to download and view their content on their computer.
Wouldn't it be nice if the PowerPoint or PDF was embedded right in your site as a slideshow?  It can! Keep reading to find out how.
SlideShare is a service that hosts PowerPoint, PDF, Keynote or Open Office presentations. The presentations can then be viewed on the SlideShare website using your computer or mobile device or the presentation can be embedded directly into your own website.
Think of SlideShare as the YouTube for slideshows. SlideShare is free to use but does offer paid/premium membership levels as well.
Here is a SlideShare presentation on how to upload to SlideShare!
[slideshare id=633101&doc=how-to-upload-powerpoints-to-slideshare-1222999382767119-8]
How to embed a Slideshare presentation on your WordPress blog
Login in to SlideShare and navigate to My Uploads.
Select the presentation you want to share by clicking on the thumbnail image
At the top of the presentation click on the <>Embed link.
Then Click the Customize Button.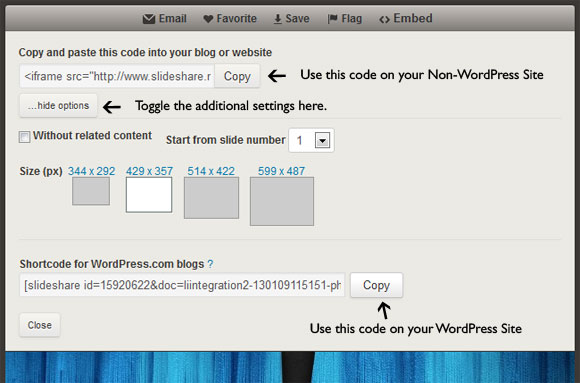 These additional settings give you the opportunity to:
Block related content from showing at the end of the presentation.
Select what slide you want to start the presentation at.
Select the dimensions of the player
Under the settings you will see the Shortcode for WordPress Blogs.
Copy this code and paste it into your page or post where you want the player to appear.
Publish or Save the page/post and you are all set!
(If you don't have a WordPress blog you can embed the slideshow on your site using the iframe code at the top of the box.)
What kind of documents and presentations will you want to share using SlideShare?  Share your ideas in the comments below.