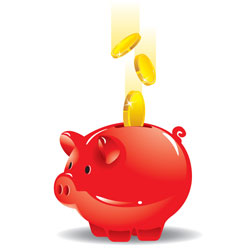 This week I received an inquiry about a website design and the customer indicated that they wanted a 5 page website and they had a budget of $50-100.  I take pride in trying to find the best solution for every budget but some people obviously have unreasonable expectations.      I felt like telling her that I would like to engage in her services (life coaching) but I only had a budget of $5.  Would that be a reasonable expectation on my part? No and neither is expecting to have a custom website for $50-$100.
So how much will a website cost? 
Answering that question, is sort of like saying how much does a car cost?   There are so many variables that determine the price of a car – brand, options, make, model, year, etc. . .   And the same holds true for a website.
What Factors determine the price of a website?
Size of site – I like to reference the size of a website by how many content pages it will be.  This helps me determine how long it will take to input and format your content.  Remember sometimes there are hidden pages that are not part of the main navigation (form thank you pages, store pages etc.).  Also I like to think of a web page as a typical 8.5×11 inch paper and your content should fit on there to be considered 1 page.   If you have ecommerce requirements, how many products will need to be set up?
Functionality – Does your site require special functionality such as a blog, shopping cart, web forms, and event calendars?  Special functionality is going to increase the price.   Of course, if you choose to use out of the box solutions, as opposed creating a custom solution you can keep costs down.
Media – Will your site include videos, audio or an image gallery?   Again this will increase the price of your website.  How many photos will I need to manage? Do I need to resize, crop, touch up the photos?  To I need to compress or convert videos or audio.
 Expertise /Consulting – Are you hiring me to use my 20+ years of business management and customer loyalty experience to consult and advise on marketing strategies for your website?  Or am I just building the site to your direction.
As you can see, there are many factors that influence the cost of a website.   Of course I like to say that a website should cost between $500 for a small static style site to $5000+ for a larger e-commerce style site.
If you would like an estimate on your website project contact me with the details.