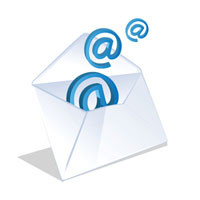 An email mailing list is an excellent tool for cultivating relationships with potential and existing clients.   So you may be asking, how do I grow my mailing list?  I have put together 9 real world steps you can take to increase email list subscribers.
1. Offer a freebie.
Give your site visitors a reason to sign up for your mailing list. Simply offer a free resource (eBook, Whitepaper, video tutorial etc.) when they subscribe.   Make sure that your freebie is something useful and desirable.    You may need to try several offers to find one that works well for your audience.
If possible include a picture of the bonus they will receive.  A picture will make the offer appear to have a greater value as the visitor can visualize what they will receive.
2. Prominent position – above the fold.
Make sure your offer is in a prime position on your web site.  That means above the fold, so the sign up form is completely visible without scrolling.
3. Make sure your submit button is an effective call to action.
"Sign Me Up!", "Give it to me!", and "Instant Access!" are much more effective than "Submit."  Try using a contrasting color for your button so it stands out against your site.   Green, orange, yellow are all popular colors for grabbing your visitor's attention.   Notice that PayPal buttons are orange? That is not an accident or a this looks pretty design decision. The orange buttons are a carefully tested marketing strategy.   You may want to try different colors and test what works best for on your website. 
Read more about call to action buttons »
4. Make sure your optin text sells your freebie.
Promote your offer by showing how it helps solve a problem your site visitors might have.  Which offer is more enticing?

OR

The first headline is definately more effective. It identifies a real problem (more leads and sales) and shows that the report will help resolve this.
5. Include a newsletter page with sign up form.
Make sure you have a page on your site dedicated to your newsletter. This will give you an opportunity to optimize your page so it can be found by the search engines. You can promote it to reach your target audience. For example – Toronto Real Estate Newsletter, Web Design News, etc. You may even want to use this page to archive old versions of your newsletter. You can also use this as a squeeze page if you use online advertising to generate traffic for your site.
6. Use an exit pop or slide in pop over.
You may not like pop-overs but they do work.    Most pop-over scripts give you the ability to limit how many times the pop up shows so that it doesn't become annoying or frustrating for your users.   Use your analytics to determine what page most visitors leave your site and include an exit pop over on that page.
7. Add a sign up form to your 404 error not found page.
Hopefully site visitors don't end up on this page but if they do turn it into something positive.
8. Remove any unnecessary fields from your forms.
Sure it would be nice to get as much information as possible from your site visitors but too many fields in an optin form can discourage visitors from tilling the form out.  Keep it short and simple, first name, email, maybe last name.   This makes the sign up easier to complete and more appealing and will result in more subscribers.
9. Have a useful thank you page.
Most list management services are double optin so that means your site visitor needs to click a link in their email to verify their email address before they are added to your list.   Use your thank you page to remind visitors what their next steps are:  1 Add your email to their safe senders list.  2. Check their email and verify your address.  3. If they don't see the email check spam.  Etc..