Finally Get Rid of Those Crazy Long Facebook Page URL's
In June 2009, Facebook introduced vanity URL's (usernames) also called short urls or  personalized URL's for both your individual profile and for fan pages. When facebook usernames were first released  there was a lot of promotion about the change and people rushed to get their desired usernames.  Almost two years later,  I am coming across many businesses and individuals who haven't set up their vanity name.   I find that many small business owners who are just developing their presence on Facebook don't know about usernames or how to go about setting one up.
It is super easy to set up a personalized Facebook username – while logged into Facebook visit www.facebook.com/usernames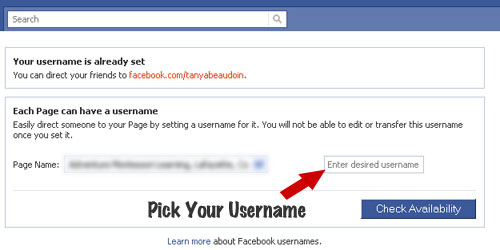 Once you select a name Facebook will check for availability.   If  the username you selected is available, you will be prompted to confirm the name (double check spelling!)  If it is not available Facebook may offer suggestions or you can try something different.
Setting up A Facebook Username for Your Personal Profile
For personal profiles, you need to verify your personal account (by providing a mobile number) before you are able to select a username.
Setting up A Facebook Username for Your Fan Page
If you administer several pages (like I do) you will have a drop down with all the pages so it is easy to select the page you want.   One note of caution – Choose your name carefully and double check your spelling.  Once you set up a username there is no way of going back.
Fan pages do not require account verification but you must have at least 25 fans before you are able to select a username for your Fan Page.
Why Do You Need a Personalized URL, anyways? The biggest reason for setting up a personalized url for your facebook page is it is easier for people to remember.   You are able to say check out my facebook page at www.facebook.com/myusername instead of having to ramble off a long url with a bunch of numbers or having to use facebook search.
Also a vanity url makes it easier to integrate your facebook page on business cards and promotional materials which can help drive traffic to your facebook fan page.
For more information and FAQ's about Facebook usernames click here.