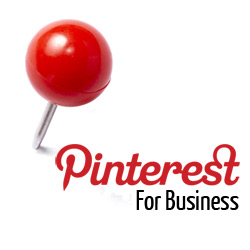 Recently Pinterest introduced new accounts and tools specifically for businesses.    Now there are personal accounts for individuals and business accounts for businesses or organizations.   Prior to the introduction of business accounts,  commercial usage was actually prohibited on Pinterest.  The new terms of service  for business accounts  allows commercial usage for business accounts only.
Aside from the terms of service there are very few differences between the two account types.
With a business account:
You need to verify your company url.
You indicate a business type
You provide a contact name and business name.
Even though there are very little differences between the account types, I do recommend setting up a new business account or convert your existing account to a business account. This way you won't violate the terms of service and run the risk of having your account suspended.
Tips for Using Pinterest to Promote Your Business
Use original images that are published on your website or blog. Small watermarks with your business name or url are a good idea too.
If you sell products, create a Pinterest catalog of your products.  You can even include the price in the description if you want.
Pin images from other sources that relate to your business.
Create contests for fans by having them pin pictures of your products or services.
Invite contributors (employees, super fans etc) to pin to your boards.
Create  boards featuring a special of the day or upcoming events.
Take your pins beyond your products. If you sell items for the home you could have a board on entertaining  tips or recipes.
Want to add a PinIt Button to your WordPress Website?
Most sharing plugins have added Pinterest as an option – check yours to see if you can add it to your site.
Check out this plugin. Pin It On Pinterest  places a "Pin It" button at the end of your posts, and allows you to predetermine what image gets "Pinned" on Pinterest.
You can also manually add pinterest buttons  using tools from Pinterest itself.
Do you have any tips or tricks on how to use Pinterest for your business? Share them in the comments below.