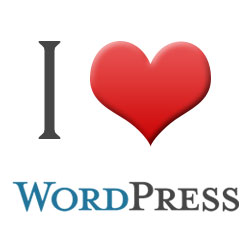 My love affair with WordPress started a couple years ago when I worked on my first WordPress site. I was instantly enamored with the flexibility, functionality and ease of use.   The first WordPress website I worked on was a blog, but I could see how a WordPress site could be adapted for almost any website or industry.  I was in love… a few years later and I work almost exclusively with WordPress sites.
Let me share with you the reasons I love WordPress.
Flexibility and Functionality
There are so many ways to modify your WordPress site to achieve all sorts of different functionality.   There are probably 20,000 different plugins you can add to your site:  Add forms, slideshows, galleries, eCommerce, event calendars, search engine optimization (SEO) tools, pop overs, create a members only site and much, much more.  Most of the plugins are even free!
Ease of Use
WordPress is amazingly easy to use.  The WYSIWYG (What you see is what you get) editor is very user friendly and if you have worked with a text editor like Microsoft Word you should have little difficulty crating or editing blogs posts or pages.   There are many WordPress resources available online so answers to your questions are usually just a Google search away.
As a CMS
Many people think of WordPress as a blog, but did you know it can function as a Content Management System (CMS) too?  You don't even need to make use of the posts (blog) part of WordPress.  Instead, use the pages functionality to create a fully manageable website.  Edit your site, create new pages, update photo galleries, edit your navigation, have multiple users and more.
Beautiful Designs           
I particularly love how you can completely customize the look of your WordPress site by creating a custom theme or modifying an existing theme.   There are thousands of WordPress themes available and if you can't find one you love you can simply create your own.  Many times I take a client's existing website design and convert it to WordPress.  They keep  the design they love, but gain all the cool functionality of WordPress. Awesome!
Effectiveness
Often CMS and blog platforms are not search engine friendly.  They use unfriendly urls, don't let you manage page titles, descriptions or keywords on each page and are ineffective in terms of search engine optimization.  This is not the case with WordPress!   WordPress, with the help of a few plugins, is extremely search engine friendly.   You can set a custom permalink structure (SEO friendly urls), add SEO plugins that let you manage keywords,  create breadcrumbs, sitemaps and much more.   You can use WordPress with confidence knowing your site will be indexed and found on popular search engines.
So try WordPress yourself and fall in love… Or if you already use WordPress, leave me a message below and let me know why you love it too!
---
Looking for help setting up your WordPress site, or need assistance with your existing WordPress site?  Send me details on your wordpress project.